I don't have the time to write an assay about the topic, but the growing disconnection between legality and morality in Silicon Valley is alarming. I'm going to just put this thing here so I'm on the record.
(Disclaimer: I don't know Daniel Pearson and he may be the best guy on earth. I'm simply referring to the opinion he expresses here)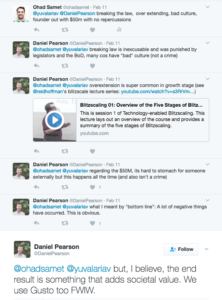 Companies like Zenefits are a problem not only because they broke the law. That's meaningful, but is not the only issue. They are meaningful because they enshrined abuse of power and misrepresentations as a way of doing business. They mixed inexperienced employees with power hungry inexperienced executives in a business that was growing too fast for its own good.
Zenefits is not alone, they are just the tip of the iceberg and they got caught because they also broke the law. The abuse of power is the much bigger issue. One, because it is prevalent. Two, because it is not often discussed. Three, because it is the result of people conflating financial success with moral superiority. The latter isn't a new idea and was introduced by Max Weber in the start of the 20th century. The latest turn is using financial success to justify immoral behavior, and flaunting social norms because they aren't the law. Yes, including with the elected President.
What's abuse of power? It's cashing out from your anonymous-abuse-enabling app that is only growing thanks to the abuse before it crashes and burns. It's creating an excessive drinking culture in the workplace that may pressure inexperienced employees into acts they may not be interested in. It's self dealing in office. It's hiring managers who focus on rating employees by their looks. It's founders buying back stock from employees at a discount because they know a valuation-popping event is coming up. All of these may not be illegal or provable in court. They're still wrong. The fact that people (let's face it – men) in SV express that they matter less because someone is rich or created business value is preposterous. Dollars are not the only way to measure value; they're not even the most important way. We just lost our compass, as a subculture, because we got flush with too much money. It's a sad realization.