I'm pleased to announce that my eBook is available for download through O'Reilly.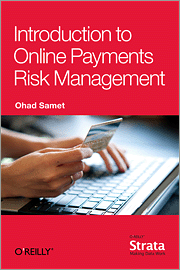 Max Levchin calls it "A practical, no-nonsense guide to best practices of risk management in payments." 
What is this book about?
For years, I've been asked various questions by people starting this own risk teams, and I felt like I was repeating the basic stuff. So early this year I sat down to write the essence of what I'd tell all of these managers and their managers through the first 12-18 months of operation – including tips on hiring, infrastructure and modeling. This books sums it all up in a neat introduction to the theory and practice of risk management from online payments, based on my experience in companies like FraudSciences, PayPal, Analyzd, Klarna and more. I hope you'll find it a helpful read.
Where can I get it? 
The digital version is free and can be found on oreilly.com, Amazon.com and more.
On Amazon (print and Kindle): http://www.amazon.com/Introduction-Online-Payments-Risk-Management/dp/1449370675
On oreilly.com (print and all other formats): http://shop.oreilly.com/product/0636920029632.do
What you'll find inside
If you've been tasked with building a team to handle risk management for online payments (RMP), this practical introduction provides a framework for choosing the technologies and personnel you need. Author and financial services executive Ohad Samet explains the components of payments risk management, and presents a coherent strategy and operational approach.You'll learn the answers to questions you're likely to encounter in the first 18 months of operation, with information that Samet has shaped and tested over several years in the industry. This book is ideal whether you intend to be a one-person task force or work with dozens of agents and analysts.
Use both a portfolio and behavioral approach to analyzing and optimizing losses
Learn about your customers to determine if they can and will meet obligations
Build an RMP team for payment risk operations, analytics, and decision automation
Use linking mechanisms and velocity models to detect unusual activity among your customers
Design system and data architecture to facilitate your activity analysis
Implement the decision and loss-reduction mechanisms you need to act on your findings